Assuming you have a Photobucket image hosting account (
http://www.photobucket.com
)
From the screen where you can view your image, select the code that appears in the "IMG" link area on the right
If the word "Copied" appears in yellow, then the code has been copied to the Windows clipboard, otherwise select the text (turning it blue) right click and select "Copy".
Now, in the FOG forum post editor, right click and select "Paste"
Job done

If you don't have the "IMG" option, click the text "Update Link Options" (you'll need to be logged in to your Photobucket account), which will bring up this screen: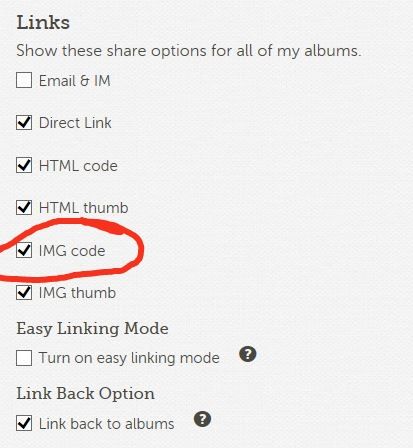 Ensure the indicated box is ticked, then scroll down and click the "Save" button.
The FOG forum is quite strict on posted image sizes (max 640 pixels on the long side). You can get Photobucket to automatically resize all uploaded images: From the same screen as above scroll down a little to the "Upload Options" section and click on "Customize Upload Options"
Select the 640x480 option and hit Save.
I hope that helps
Here's the picture posted following the above instructions:
Lawrence